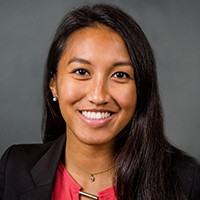 Mirabella Pulido
Administrative Coordinator
Room 13-3058
mpulido (at) mit.edu
(617) 258-6018
Mirabella received her B.A. in journalism and Portuguese from the University of Massachusetts Amherst in 2016. She has been working in education since 2014, with a focus on international environments. During college, she interned at Education First, as well as Colehour + Cohen, a public relations agency in Seattle that promotes social impact. Prior to joining MIT, Mirabella interned at the Vidal Ramos Foundation in Brazil, which emphasizes education, research, and social justice for Brazilian youth.
Outside of work, Mirabella is the president of a local community service club, Boston Rotaract. She enjoys cooking, playing piano, community organizing, and fundraising.
She is a Rotary International Youth Exchange Scholar and hopes to utilize technology to make education more widely and easily accessible.